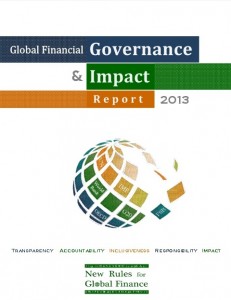 This post originally appeared on the blog of FTC member, Tax Justice Network.
Last year, our colleagues at New Rules for Global Finance published a ground-breaking report on the governance and accountability of the leading financial rule-setting institutions, including those covering international tax cooperation, such as the G20, the OECD, the UN Tax Committee, and the IMF.  Their report is available here.
Next week, on April 1st, the report's authors and leading commentators, including TJN's director, John Christensen (who is also a Board member of New Rules for Global Finance), will be discussing the report at London's Overseas Development Institute.  The event will be public: registration details can be found here.
The Global Financial Governance and Impact report assesses how well these bodies are governed, whether they are having the desired positive impact, and whether they have achieved their primary goals and made global financial governance fit for purpose.  Can they rightfully claim to be making a positive impact on the world's citizens?
Overall, the New Rules report finds that there has been some improvement since 2009 in all of the institutions governing global finance. However, the improvement is gradual, to say the least. Governance (especially of the G20 and taxes) remains far too ad hoc, and impact is limited by the narrow mandates of the institutions. This creates holes in the system that leaves large parts of global finance ungoverned. The report makes recommendations for how to accelerate progress, especially by insisting that the institutions and their sponsors analyze their impact and results rather than focusing on process, and by enhancing global popular mobilization to deepen reforms and avoid another financial crisis.
This event will explore the methodology used in the Global Governance report and a panel of experts will discuss the findings.
Speakers
Jo Marie Griesgraber, Executive Director, New Rules for Global Finance
Cyrus Rustomjee, Director, Economic Affairs Division, Commonwealth Secretariat
John Christensen, co-founder Tax Justice Network
Dirk Willem te Velde, Head of Programme, International Economic Development Group, Overseas Development Instiute
Chair: Kevin Watkins, Director, Overseas Development Institute